Maggie Walsh Tournament – Kindly Sponsored by Phelan's Topline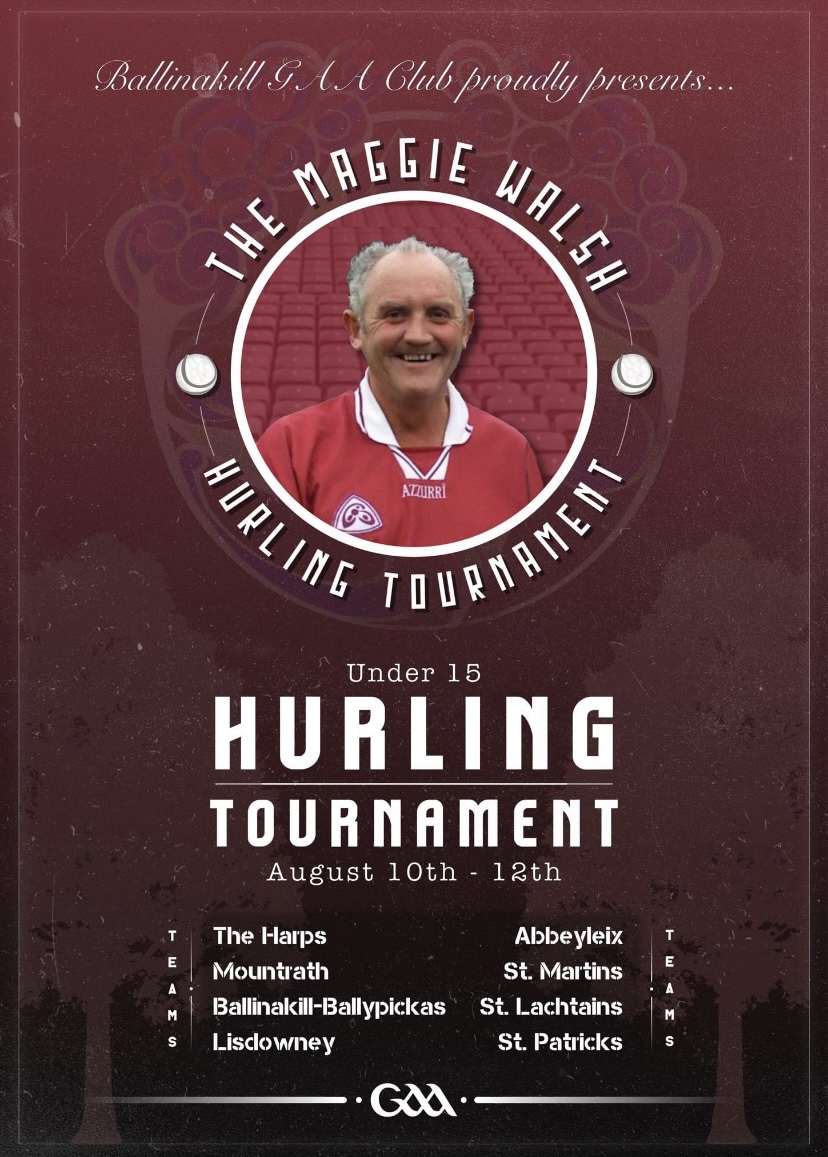 €5 entry for spectators – Cash or card accepted on gate. Please follow parking signs.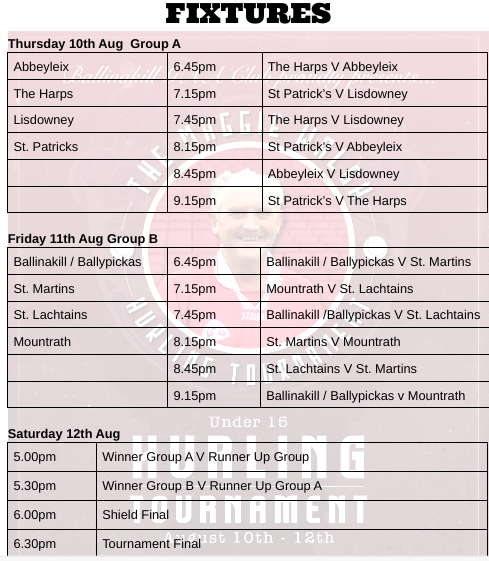 One of the best hurlers Laois ever produced,Michael had a glittering career for club,
county, province, country and, indeed,company. At club level, we won Minor 'A' (1970), Junior (1969) and Intermediate (1974) championship medals with his beloved Ballinakill, but was denied a senior title by Camross in 1979. He won two Railway Cups with Leinster, played in the Centenary Cup Final in 1984 with Laois, was nominated for an All-Star in 1976, was selected at wing-forward on the Laois Team of the Millenium, and played in ten All-Ireland Interfirms Finals with Avonmore, winning eight, at a time when the Interfirms were fiercely competitive. He won two All-Ireland 'B' finals with Laois as well, and played for Ireland in the Hurling/Shinty Internationals. He was also the Laois Hurler of the Year in 1977. While hurling made him a household name in Laois and beyond, he was a natural sportsman, turning his hand to a variety of different games and excelling in all of them. In 1970, he won a Minor 'A' football medal with Ballyroan, in the same year he was winning the 'A' minor hurling title with Ballinakill.
For a time, he was the Number 1 ranked squash player in the midlands, playing out of the local club in Ballinakill. He was an accomplished golfer as well, and was delighted to become the first Ballinakill man to win the Captain's Prize in Abbeyleix Golf Club.
He was devoted to Ballinakill GAA club as well, playing for them in a Junior final back in 2003 at the age of 50. Remarkable enough as that is, Balinakill only qualified for the final because Maggie had pointed a last-minute free in the semi-final to secure a one point win. If he wasn't doing his bit on the field, he was helping out in any other way he could. He was one of organisers of the annual Golf Classic, and was planning on helping out with the club's U-14 team
this year too. His death last week was a tragedy for his family, but it will have been some comfort to them to see the huge crowds which descended on the family home, and on the church in Ballinakill, for his wake and burial. It was a testament to the esteem in which he is held. There were guards of honour provided by Ballinakill GAA, his Laois team mates from the Centenary Cup Final team, Abbeyleix Golf Club, Ballinakill National School, and his colleagues from Phelans Hardware Store in Durrow, where he had worked for the last seventeen years.
When talking to various people about Michael, while his skills as a hurler are an obvious topic of discussion, the recurring word used by everyone to describe him was 'Gentleman'. He was loved as a hurler because of his talent, his passion, and his pride in club and county, but he was loved outside the field by all who knew him because he was honest, worked hard and did his best for his family and his community.
Career Highlights
2 All-Ireland SHC 'B' Titles
2 Railway Cup Medals
1 All Star Nomination
Represented Ireland in Hurling/Shinty Series
8 All-Ireland Inter-firm Titles
10 Leinster Inter-firm Titles
1 Laois JHC Title
1 Laois IHC Title
1 Laois MHC Title
1977 Laois Hurler of the Year
No 1 Ranked Squash Player in the Midlands
2016 Captain's Prize Winner at Abbeyleix GC